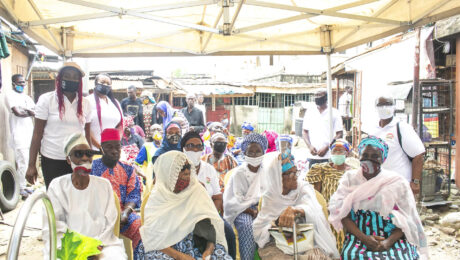 As part of effort to give succour to the elderly particularly in the area of access to qualitative health care in Lagos State, a Non Governmental Organization, 60Plus Advocacy Initiative has partnered the Lagos State Health Management Agency LASHMA, for an affordable and efficient service delivery across the state.
The sensitization called Ilera Eko Project for the elderly' was a gathering of older men and women in their sixties and above took place at Surulere.
Chairman of the NGO Governing Council, Mr. Adeyinka Obalade, said the plight of the elderly, especially the less privileged necessitated the partnership aimed at raising awareness about health insurance under the "Ilera Eko Project".
In a chat with newsmen, Mr. Adeyinka Obalade, who said the 60Plus Advocacy Initiative was to ease the burdens of some of the senior citizens explained that the NGO would be sponsoring about fifty indigent senior citizens by enrolling them in the State Insurance scheme, thereby enabling them to access free health care in any hospital of their choice for the next two years.
"We also will monitor how they are getting service for whatever we have paid, but we will continue to sponsor and also mobilize people to sponsor but out target is not their families but our target is the senior citizens so we can alleviate their situation"
On her part, LASHMA General Manager, Dr. Emmanuella Zamba who was represented by the sales manager, Mrs. Uchechukwu Igweonyia stated that Ilera Eko was unveiled to market health insurance to residents.
She commended 60Plus Advocacy Initiative for the partnership which she said would further give senior citizens in Lagos access to quality health care regardless of their financial status .
"Lagos State Health Insurance plan is for everybody in Lagos, but we have noticed that for the time being they have neglected people in these age and we have partnered with 60plus Initiative to ensure they get quality health insurance for them. That you are of this age does not mean you don't have access to the society again, we are here telling them we are here to cover you and that is whole purpose why this health insurance is set up"
Some of the beneficiaries expressed appreciation to the NGO for bringing the initiative to their doorsteps and appealed to other NGOs and philanthropic individuals to partner with LASHMA to enable more senior citizens in Lagos to key into the health insurance scheme.
The elders were informed on how to register with and access quality health care under the Lagos State Health Insurance Scheme.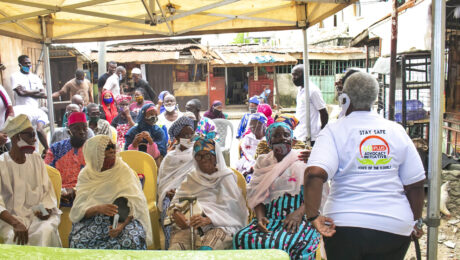 The plight of the Elderly in Nigeria has been grossly neglected over the years. It is a fact that only a very small percentage of the population of the Elderly receive pensions or have independent means of income. The vast majority are totally dependent on family or charity. Many of them are going through untold hardships. These Seniors had contributed their quotas during their youthful and adult days but now feel abandoned when old. There is the need to act on their behalf.
60 Plus Advocacy Initiative is a non-profit and a non-Governmental organization whose sole aim is to be the Voice of the Elderly and take their needs for social justice and quality living to the relevant authorities, at the State and National level. We came on board in 2018 and have our office at Suite 33, Tafawa Balewa Square, Lagos Island, Nigeria.
During this Covid-19 pandemic, we have had a number of outreaches to donate palliatives to Elderly in our Society.
We now wish to launch our Advocacy at different levels of Government, to campaign regarding the Seniors' health needs, transportation and recreation. This Initiative will also include a vigorous public awareness campaign for Respect for the Elderly.
We call on well meaning Nigerians, to support this noble cause, as we make a difference in the lives of the Elderly.
Remember the path you refuse to straighten today might be the same you will stumble on in the future. The youth of today is the Elderly of tomorrow