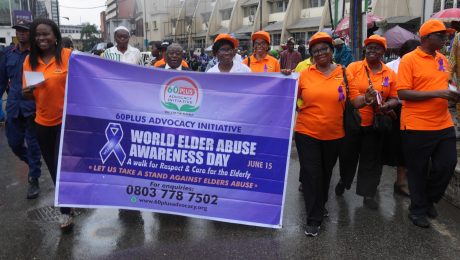 We all pray to get old; everyone wishes to see their grandchildren and even great grand children.
60Plus Advocacy Initiative are advocates with passion, championing elderly wellbeing. Together they strive to elevate the elderly lives, inspiring change and improving the lives of seniors.
On June 15 2023, the NGO marked the World Elder Abuse Awareness Day by organizing a walk themed "A Walk for Respect and Care for The Elderly".
Yes, it rained! it was a rainy day but that didn't douse the zeal of the NGO to embark on this very important activity to sensitize the public on the need to Respect and care for the elderly.
Seniors poured in from different parts of Lago; Egbeda, Igando, Ikorodu, Ibeju Lekki, Shomolu, Ikeja, and even Shagamu in Ogun State. The event was graced by Representatives from Lagos state Health Management and other dignitaries.
The walk was a short but very impactful one, as Elders distributed flyers and created awareness on the need to respect and help the elderly. This walk took place around the Tinubu Fountain Park at the heart of Lagos Island.
Even in the rain, members of the NGO, alongside numerous seniors took their stand against Elder's Abuse.
As Advocates for the elderly, 60Plus Advocacy Initiative solicit your support in this worthy quest to create a safe space for the seniors of Nigeria.
Remember you too will be old one day
Powered by 60Plus